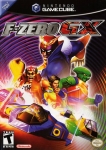 Apparently, Nintendo was seriously considering releasing a new F-Zero for the Wii U at some point. According to this, Nintendo asked the Burnout and Need for Speed developer, Criterion Games, to create a demo for a new possible F-Zero title for the Wii U. Former Criterion Games creative director, Alex Ward, confirmed that Ninendo wanted them to work on a new F-Zero in early 2011, so that the game could be unveiled together with the console at E3 of the same year. Man, what a crazy E3 that would have been! Unfortunately, Criterion was too busy working on other stuff to help Nintendo develop a new F-Zero, and they declined Nintendo's offer. Ever since then, there hasn't been any evidence to suggest that Nintendo is still pursuing development of a new F-Zero.
The last home console release of an F-Zero game was F-Zero GX, which was released for the GameCube in North America on August 26, 2003, nearly twelve years ago. Who knows if Nintendo still has any plans to do a new F-Zero. It seems F-Zero fans will have to wait to see what the future holds for the futuristic racer.
Check out my YouTube channel for videos!