Play Treads of War!
Posted by Billy on 13 March, 2014 at 9:37PM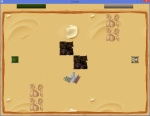 Remember that Combat clone I was working on? Well now its not so crappy! Gameplay has been overhauled -- Gameplay has been sped up, and now you can actually win or lose. It also has graphics by Aaron Martinez, aka our own Metal_Kitty666, and they look pretty good. Timing issues have also been fixed. Try it out and tell me what you think in the comments.
Please be sure to read the included readme.txt file, and download it here.